Music and Beyond
Elmer Iseler Singers
Lydia Adams, conductor; Shawn Grendel, Piano
St. Joseph's Church
Wednesday 5 July, 7:30 p.m.
The Elmer Iseler Singers are among the very best choirs in Canada.* It was founded in 1979 by Iseler in 1979 after a tenure of 25 years at the helm of the Festival Singers. Remaining with the EIS until his death in 1998, he was succeded by Lydia Adams who is still the conductor and artistic director.
The Singers have lost nothing of their élan over the years. They have a glorious sound, though it was occasionally compromised by the very live acoustics of St. Joseph's. From the rear of the church it often sounded congested, and even noisy. It doubtless was better the closer you got to the performers, but the house was all but full for the occasion and many audience members had no choice but to sit toward the back.
Even with the problematic acoustics, it was a beautiful concert. It was made up of nineteen short pieces, some traditional and some modern. The fact that there was no big work made the program a little less than compelling, though one could scarcely complain about most of its exquisite components.
Among the highlights was Northern Lights, an evocative item by Norwegian composer Ola Gjeilo, sung with exquisite tuning and blend. Another was called Nur: Reflections on Light. According to the composer's Toronto-based website, his music explores "the dialogue between sounds of Muslim devotion and music of the diverse Canadian soundscape." It was performed by the members of the choir deployed individually throughout the church.
Other notable offerings included Eriks Ešenvalds' evocative Stars and Eleanor Daley's pleasantly sentimental Grandmother Moon. Ron Smail's arrangement of Amazing Grace was lovely in its way, but it did lack the simplicity at the soul of the piece.
As nearly as I can remember, it's been more than a decade since the Elmer Iseler Singers came to Ottawa before. Let's hope they'll be back in the less distant future.

Opera Atelier
Charpentier: Médée
Elgin Theatre, Toronto
22-29 April 2017
Marc-Antoine Charpentier (1643-1704) was one of the elite composers in and around the court of Louis XIV, second in prestige only to the slightly older Jean-Baptiste Lully (1632-87). Whereas Lully is chiefly known today for his operas, Charpentier is better remembered for his church music. And yet one of the best regarded operas of the period is the latter composer's 1693 Médée.
There are other operas based on the ancient myth of Medea, most notably by Luigi Cherubini. None of them have been produced in Ottawa as far as I can determine, nor are they likely to be in the foreseeable future. But Toronto's Opera Atelier mounted it in late April. The production was a smashing success. As usual, the company presented the work in a manner that was not slavishly "authentic," but which took considerable care to preserve the basics of a seventeenth-century ambiance. Thus the instrumentation largely respected what an orchestra of Charpentier's time and place would have included, the singing was apt and historically informed, and the other production values were plausibly consistent with what we know of Baroque practice. (The Elgin Theatre's decor also appears very Baroque to my inexpert eyes.)
It's hard to think of another opera with the paucity of likeable characters that we find in Médée. It's true that the title role is a woman grievously wronged by her husband, Jason, who is trading her in for a newer model. Still, her murderous spree toward the end of the tale is not a proportionate response, especially since Medea's two sons are among the victims. Nice ladies don't kill their children, even if the father is a jerk of mythical proportions.
Never mind, in opera a great voice absolves nearly any sin, and Peggy Kriha Dye certainly has that, as well as the acting skills necessary to make her Medea the most compelling personality in the drama. The other major roles were also well served, but it's in the nature of this opera that none of them makes quite as strong an impression.
Colin Ainsworth cut a big, manly figure as the conflicted Jason and sang powerfully. Indeed, every one of the principals was outstanding, but special mention should also go to Stephen Hegedus's Créon and Mireille Asselin's Créuse.
In Charpentier's time (1643-1704) and for the next 200 years every serious French opera had to include a ballet or it wouldn't be produced. The Atelier Ballet executed Jeannette Lajeunesse Zingg's choreography brilliantly. The dance episodes are spread throughout the opera as is undoubtedly correct. Personally I found that they slowed down the action but then I'm not a big fan on French Baroque opera, so what do I know?
David Fallis conducted the Tafelmusik Baroque Orchestra and the Tafelmusik Chamber Choir with superb results. Production values, including Marshall Pynkoski's staging and Gerard Gauci's set design were similarly praiseworthy.


How odd it feels, even after two years and a bit. It was in September of 2014 that the Citizen informed me that I was retiring, something that I hadn't planned on. In one sense, maybe two, it was a good thing. I had been dreading the prospect of going out eight to ten times a month, even though I knew that I would enjoy most of the musical events I would be covering. On top of that, I spent much of the following season in the hospital and in convalescing from various surgeries and the like. Still, for the last year at least I could be going to more concerts than I have. That's what feels odd. I find myself wanting to be there but not to go there. In any case, I did make it to three events in November, and here is what I thought of them.

New Zealand String Quartet


Chamber music from two hemispheres

New Zealand, being in the Southern and Eastern Hemispheres, is about as far away as you can imagine. It is a pretty civilized place by all accounts and especially if the playing of the New Zealand String Quartet is any indication. In one sense, the most interesting parts of the program were two short pieces by New Zealand composers Gareth Farr and Natalie Hunt. They were engaging, each in its own way, and well worth hearing. Unfortunately I can't remember them in enough detail to do them further justice here. (Shame on me; I should have been taking notes.)
There were two standard repertoire pieces on the program, Haydn's Quartet in D, op. 71, no. 2 and Schubert's String Quintet in C. There is a certain boldness to the Haydn compared to the composer's many earlier works in the genre, though it doesn't have the final finish of assurance that the more popular Opus 76 scores possess. Nevertheless this one received an elegant and spirited reading at the hands of the New Zealanders.
The big work on the program was the Quintet in C, one of Schubert's greatest achievements. Ottawa cellist Paul Marleyn joined the ensemble in a solid and engaging performance. The second movement was refreshingly straightforward while the first and fourth were suitably dramatic.
National Arts Centre Orchestra


New seats, new sound, new concerto



The National Arts Centre Orchestra's program for 16 and 17 November consisted three works by Russian composers and the World Premiere of Peter Paul Koprowski's Concerto for double bass and orchestra. Koprowski, though he is Canadian, has a name (and accent) and a musical style that are Slavic enough to give the program an extra degree of consistency.
The concerto was played by the orchestra's popular Joel Quarrington, As with most of Koprowski's work, there is a ceaseless flow of melody and a sure sense of form. It has a dusky quality that goes well with the bass timbre. Quarrington's playing was outstanding, even for him.
The first half of the program also included Glinka's Ruslan and Ludmila Overture and Borodin's In the Steppes of Central Asia. They were well played, though Venezuelan conductor Diego Matheuz's tempos were too fast to let the music breathe, especially in the Borodin.
This concert was my first in the born-again Southam Hall and my impressions were mixed. The new seats are attractive and, though a little narrow, comfortable. Additionally, the Orchestra is now divided into three sections, meaning there is less need for people to climb over those already seated. (I understand that the three balconies are not divided this way.) As for the sound, well, it was loud and bright. I like loud, but I found it excessive in the first half of the program and the brightness was a bit much as well.
But loud works well in Tchakiovsky's Symphony no. 5. On top of that Maestro Matheuz led an energetic and fairly well-considered performance. I definitely enjoyed it.
Throughout the evening I had the impression, possibly mistaken, that the music was being amplified. That might account for the slightly unnatural-sounding brightness but, more than that, the basses consistently sounded as if they were coming from the left of the stage, whereas they were actually in their usual place at the far right.
Ottawa Bach Choir


Twas but Pure Love

For fifteen years, my friends of the Ottawa Bach Choir have been offering three main-series concerts a season and I have attended nearly all of them, mostly as the critic of the Ottawa Citizen. I can only think of two times when I had something negative to say and in one of them I was mistaken.
Last month the OBC and its founder/conductor, Lisette Canton, opened this season with a concert entitled Twas but Pure Love. Its program was similar to that of their new CD, launched on the same occasion and also called Twas but Pure Love. The works on offer were all Christmas-oriented or Christmas-friendly. They included an Ave Maria by Palestrina, a number of Renaissance and Baroque motets including Bach's Loabet Den Herrn, Alle Heiden along with a few miscellaneous pieces.
In a concert like this it can be hard to select highlights; the quality of the selections and the excellence of their performance was uniformly high. I especially liked luminous rendition of Victoria's O Magnum Mysterium and an equally inspiring account of Dixit Maria by Hans Leo Hassler. Two works by Ottawa composers deserve mention, Matthew Larkin's Sailor's Carol and Kelly-Marie Murphy's The Darkest Midnight in December, beautiful pieces both and beautifully accompanied by harpist Caroline Leonardelli.
Of the several solos woven into a few of the pieces, baritone Jean-Sébastien Kennedy's singing of the Huron Carol was especially pleasing. As for the CD, it includes a dozen items heard in the concert, though it was recorded and produced some time earlier. It is a pleasure to hear, especially as a souvenir of the concert, and for those who weren't there it offers a way of mitigating their misfortune.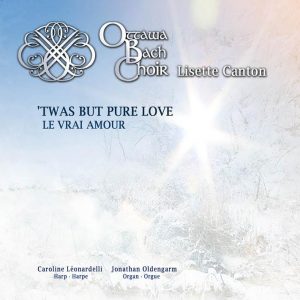 There is one reservation, though. The miking is fairly distant, producing the effect of acoustic vastness, a bit like what one might hear in a great cathedral. At times it works nicely, but in others it obscures the detail and some listeners will find it distracting. Still, it is worth having and would make a fine Christmas gift. For detail on securing your copy go to http://ottawabachchoir.ca/en/shop/


So, what's the difference between a viola and an onion?*
Oh, you've heard that one, have you? Well here's another: last Wednesday there was a noon-hour recital at Southminster United Church and the program was made up of - are you ready for this? - music for unaccompanied viola! (It wasn't entirely unaccompanied, though. There was a stream of road sounds from Bank Street, but one got used to them.
Okay, enough. Jokes aside, the viola is a glorious instrument, even Unaccompanied. Its repertoire as an unaccompanied instrumentmay be a little limited, but it isn't hard to transcribe pieces originally for the cello or violin. Bach's solo cello suites work particularly well.
Violist Pemi Paul didn't play any Bach, however, in Wednesday's recital at Southminster United. He did play pieces by George Enescu, Canadian Scott Godin, Heinrich von Biber and others. He brought a nice, rich sound to all of them along with a definite feeling for the various styles represented.
Especially interesting was Ligeti's Viola Sonata, a piece well known to harmony wonks as it uses microtones to expand the music's tonal horizons. Biber's Passacaglia in G minor was another highlight with the late variations being nice and majestic.
If you're still not sold on the instrument's versatility, you should have heard the last piece that Paul played, the Adagietto from Mahler's Fifth Symphony. And if you have trouble imagining this popular movement arranged for viola, imagine it gracefully rendered entirely in pizzicato.
(* No one cries when you cut up a viola.)
~~~
A Chamberfest Sampler

This year's Ottawa International Chamber Music Festival has come and gone. I've written these words, or something like them, for 23 years. For the first 21 of them I attended around 30 concerts each year, reviewing most of them for the Ottawa Citizen. Since I retired in the fall of 2014 I go to far fewer musical events than I used to or, indeed, than I would like to. Chalk it up to age ... or something like that. Of the music I did hear in this year's Chamberfest, the following stand out one way or another:
~~
22 July, Dominion-Chalmers
The Gryphon Trio and Friends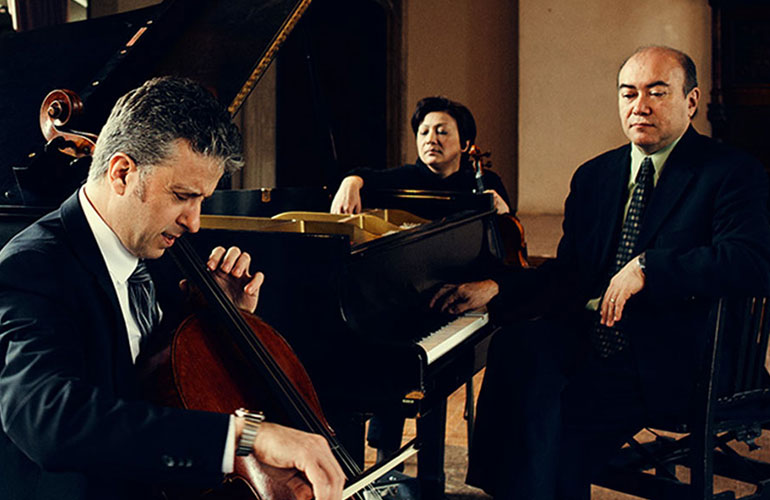 The only generally familiar work on this program of Slavic music was Dvorak's Dumky Trio in a very competent but not too engaging performance. The more interesting part of the program was a selection of art songs by Ukrainian composers Mykola Lysenko (1842-1912), Miroslav Volynsky (b. 1955) and Yakiv Stepyovi (1882-1921). These were sung by soprano Monica Whicher and baritone Russel Braun, accompanied by James Parker. All were nicely sung, with the Volynsky songs especially beautiful.
Those composers were unfamiliar to me, but I've long been interested in the work of Valentin Silvestrov (b. 1937). Unfortunately, I had to leave at the intermission before two of his choral songs were performed.
~~
23 July, National Gallery
Dover Quartet
The string quartet is the quintessential form in chamber music. I was able to take in two quartet concerts, the first by the American Dover Quartet. Their program included two familiar works and a third by the American composer David Ludwig. Ludwig has achieved considerable success in the United States and has an impressive catalogue of orchestral, chamber and vocal works, all of which have escaped my attention until now. Pale Blue Dot was commissioned for the Dovers and their performance made a good case for the icy and serene slow sections of the 18-minute work, and summoned up the right degree of rowdiness when required.
The program opened with Smetana's String Quartet no. 1 ("From my life"). It's a good piece, if on the B-list of the chamber music world. The Dovers played with the requisite dash and verve, to good effect.
The concert concluded with an outstanding reading of Beethoven's Quartet in B-flat, op. 130. Although this piece, like the other quartets of Beethoven's "late period," is reckoned among the great masterworks of music, the Dovers didn't allow themselves to be overawed by it. They treated the music as congenial as well as profound. This was especially welcome in the last movement, the Grosse Fugue which many performances render as intimidating.
The four musicians had good balance and blend and their ensemble playing was precise. Although it didn't stand out in an untoward way, Milena Pagaro-van-de-Stadt's viola sound was especially pleasing.
A couple of other things struck me during the concert, neither too germane to the listening experience. First was the use of tablets on dedicated tablet stands in place of sheet music, a practice that will likely spread in the next few years. The other was the bright red of the hair of the violist's bow. I don't believe I've ever seen bow hair of any colour other than the familiar pale blond. (Well, some bass players use Siberian pony hair which is normally black.) In any case the red in the bow matched her gown nicely. Who knows, maybe she'll set a trend.
~~
27 July, National Gallery
What makes it great?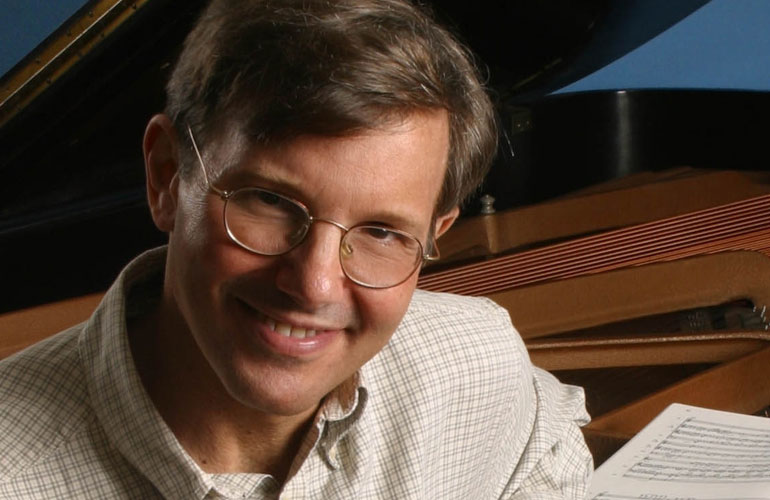 Rob Kapilow's popular lectures are so packed with information, including musical illustrations, that most listeners probably take a few nuggets from them and are left with a more general impression of the analysis they've just heard. Kapilow's observations have always struck me as valid, if a little fussy at times. In this case, I think even Beethoven would have learned a lot.
The Great Work this time was Beethoven's Cello Sonata no. 3, op. 69. The numerous musical snippets that were used as examples were provided by cellist Rachel Mercer and pianist Lisa Tahara. They offered a nice performance of it after intermission
~~
28 July, National Gallery
Trio Alba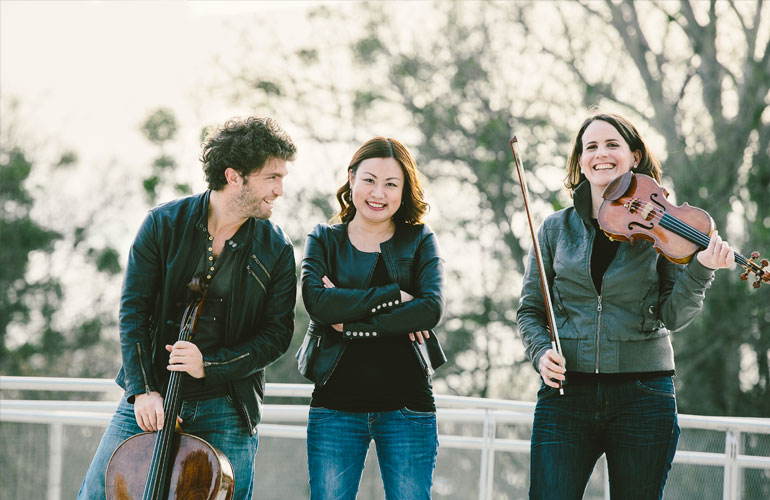 If the string quartet is the most popular genre of chamber music, the piano trio (piano with violin and cello) isn't far behind. Among the acknowledged masterworks in this genre are Schubert's Opus 99 and Opus 100. The Alba Trio rendered a solid account of the Opus 99 in B-flat. I say "solid" in that ensemble and intonation were all in order. There was a definite coherence to the interpretation, and fluid rhythms were used with taste, but overall it was not entirely engaging.
Austrian composer Helmut Jasbar's Fugitive Pieces, a short but powerful piece inspired by the Anne Michaels novel of the same name, received an intense, committed reading. It was well received by the near-capacity audience in the National Gallery Auditorium, despite its somewhat thorny mode of expression.
Finally, the Albas delivered an irresistibly spirited account of Smetana's Piano Trio in G minor, Op. 15.
~~
30 July, Dominion-Chalmers
An Evening with Against the Grain Theatre
Last year Against the Grain Theatre brought us their brilliant spoof of Don Giovanni. This year their offering was more serious, but equally rewarding.
The concert was in two parts. First there was a wonderful realization of Janáceks song cycle, The Diary of One Who Vanished. (Isn't that an evocative title?) It tells the tale of a respectable village lad who is smitten by a Gypsy woman and leaves his family and former life to go off with her. It differs from most song cycles in that it tells a coherent story involving more than one character and works best with a bit of staging.
The central character was sung with dramatic urgency by tenor Colin Ainsworth. The text is in Moravian-Wallachian, and my knowledge of that dialect is a bit wobbly, but his diction sounded convincing. The Gypsy women were sung by Maria Bamford, Lauren Segal, Alexandria Givens, Miriam Khalil and Lydia Jean Piehl, all to good effect.
The remainder of the program was given to Ayre by the Argentinian composer Osvaldo Golijov. It's a genre-melding piece for eleven instruments. It didn't entirely click with me, though I appreciated the facility with which the music ventured from the rowdy to the ethereal.
~~
1 August, Dominion-Chalmers
Danish String Quartet
As in the past, the playing of the Danish String Quartet was an unmitigated joy - such beauty and unanimity of sound and thoroughly persuasive interpretation is a combination one doesn't hear every day, not even in as fine a series as Chamberfest.
The program included Quartet no. 1 by Per Nørgård, probably Denmark's most eminent living composer, Mendelssohn's Quartet in A minor, op 13 and Beethoven's Quartet in E-flat, op. 127. I think this was may favourite of the concerts I attended.
~~
2 August, La Salle High School
Constantinople
This "landmark multidisciplinary spectacle of cultural crossroads, political division and clashes of faith" has been an ongoing project of the Gryphon Trio and composer Christos Hatzis for the best part of two decades. I remember liking its previous Ottawa performance of eight or ten years ago. It was colourful, musically compelling and altogether captivating.
This time I was disappointed. Perhaps it was because it was newly restaged, or maybe I'm getting grouchier as the years go by. I certainly appreciated how well executed it was, but all in all, I found it tedious.
~~
3 August, Dominion-Chalmers
Bach's Mass in B minor
Still in a grouchy mood, I only stayed for the first half of this one. The B minor Mass is an incomparable masterwork, of course, but the manner of its presentation was underwhelming to say the least. Yes, the Arion Baroque Orchestra played well, and the eight vocal soloists were fine too. The problem was that the soloists were also making up the chorus, and the choral numbers almost all sounded anaemic.
~~ ~~~ ~~
In sum, I'm reluctant to pass judgement on this year's Chamberfest. I wasn't blown away, as I often was when I was reviewing it for the Citizen, but in those days I would normally attend far more than seven concerts. In looking over the events in this year's program book, I was a little uneasy at the number of genre-blending or -bending events. To be fair, though, I avoided them and didn't really give them a chance.
Chamberfest remains one of Ottawa's chief musical treasures, and I'm already counting the weeks (49) until the 2017 edition.
---
Festival Pontiac Enchanté: Music for two pianos

Festival Pontiac Enchanté is a series of concerts spread through the year and given in the Concert Studio of Venturing Hills Farm, an equestrian facility near Luskville, Québec. The farm lies at the foot of the Eardley Escarpment and commands possibly the best view of the Gatineau Hills available anywhere.
This July two programs were given, one for two pianos and the other for baritone and piano. I was only able to attend the first, featuring pianists Carson Becke (the festival's Artistic Director) and Suren Barry, a young Canadian pianist currently working on his doctorate at the Schulich School of Music of McGill University.
The first offering was Debussy's Prélude à l'après-midi d'un faune in the composer's own arrangement for two pianos. Barry and Becke played it well, and there were moments of considerable beauty in the performance. But it must be said that the arrangement itself is a bit chunky. It's impossible not to miss the perfumed timbres and diaphanous textures of the original, orchestral version.
Prélude à l'après-midi d'un faune was first performed in 1894 and is often cited as Debussy's first major work. En blanc et noir, written in 1915, was a product of the composer's last years; he died in 1918. Like his Cello Sonata, Sonata for flute, viola and harp, and the piano Études dating from the same period, its musical idiom is austere and concentrated. Under the wrong hands it can sound willful and emotionally opaque.
Fortunately, this performance was lucid and congenial. The precision of ensemble between the two pianists was exemplary and their interpretation entirely congruent.
The remainder of the concert was given to a "concert suite in four scenes" arranged by Dmitri Alexeev from Gershwin's opera Porgy and Bess. The Canadian premiere performance was animated, robust and entirely engaging. The familiar Gershwin tunes are set forth and developed with the utmost fluency, sometimes finding more potential in the music than Gershwin himself did. Barry and Becke played with a precision that did not prevent a generous overflowing of lyrical joy.
---
Opera elsewhere ... a world premiere in Montreal

For Ottawa music lovers recently bereft of our city's only professional opera company, it's hard not to cast an envious eye toward Montreal where, next season, there will be five productions. Aida, Don Giovanni and La Bohème will doubtless sell the most tickets, but Poulenc's infrequently presented Dialogues des Carmalites and the World Premiere in March 2017 of Julien Bilodeau's Another Brick in the Wall should draw a lot of interest as well.
And in fact we didn't have to wait until 2017 to take in a new work from the Opéra de Montréal. This May saw the creation of Les Feluettes by Australian composer Kevin March. It's a reworking of a stage play of the same name that premiered almost 30 years ago. Its author, Michel Marc Bouchard, adapted the text as the libretto for the opera, and most successfully at that.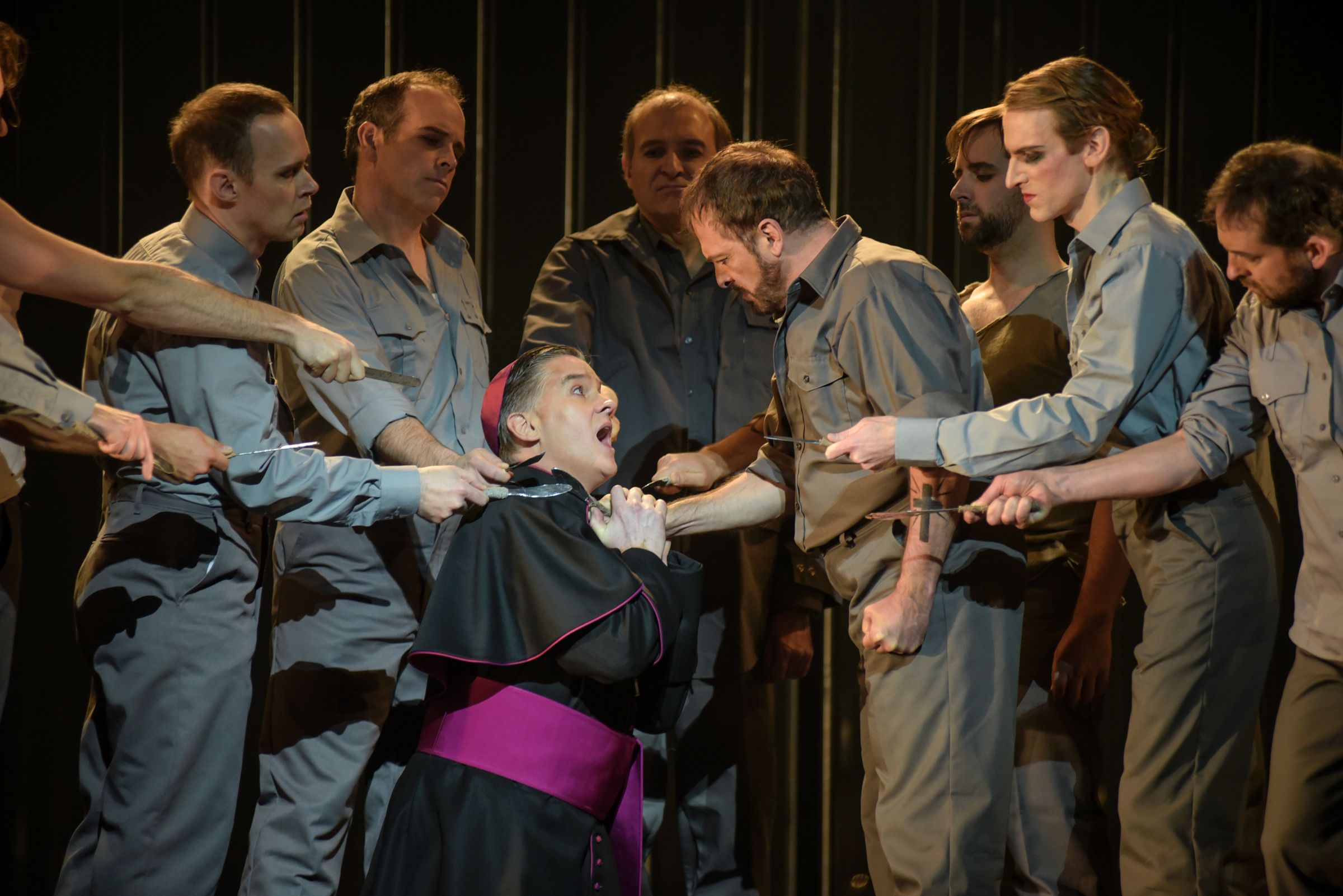 Gordon Gietz (Monseigneur Jean Bilodeau) Photo: Yves Renaud
It takes the form of an "opera within an opera," the framing device being played inside a prison, by prisoners, in which the tragic circumstances of a much earlier gay love triangle are reenacted. The cast was entirely male, though countertenor Daniel Cabena's portrayal of Mademoiselle de Rozier was sufficiently feminine to make good sense in the context of the story. The cast was uniformly strong vocally and dramatically, with baritone Étienne Dupuis and tenor Jean-Michel Richer especially memorable as two of the lovers.
The music, though definitely of our time, was not difficult for the audience. Along with many astringent harmonies and other contemporary sounds that hold much of the score together, there is an almost constant flow of melody. Though it's not the kind of melody you're likely to whistle on your way home, there are sections of heart-stopping beauty. The score, though varied in sound and feeling, managed to be entirely coherent. Interestingly, and appropriately given the dramatic context, thematic material from Debussy's Le martyre de Saint-Sébastien was woven in, especially in the first third or so.
The production design was suitably claustrophobic and that effect was enhanced by the orchestra being dimly visible at the back of the stage rather than in the pit. Apparently conductor Timothy Vernon's cues were picked up on a video camera and made visible to the cast from a big screen at the back of the hall. It seemed to work well.
Speaking of Vernon, he is artistic director of Pacific Opera Victoria, of which he was also the founder 35 years ago. It's a highly innovative company and has presented a number of Canadian premieres as well as some contemporary repertoire. It partnered with Opéra de Montréal in commissioning Les Feluettes, which will be one of the three operas it presents in its 2016-17 season.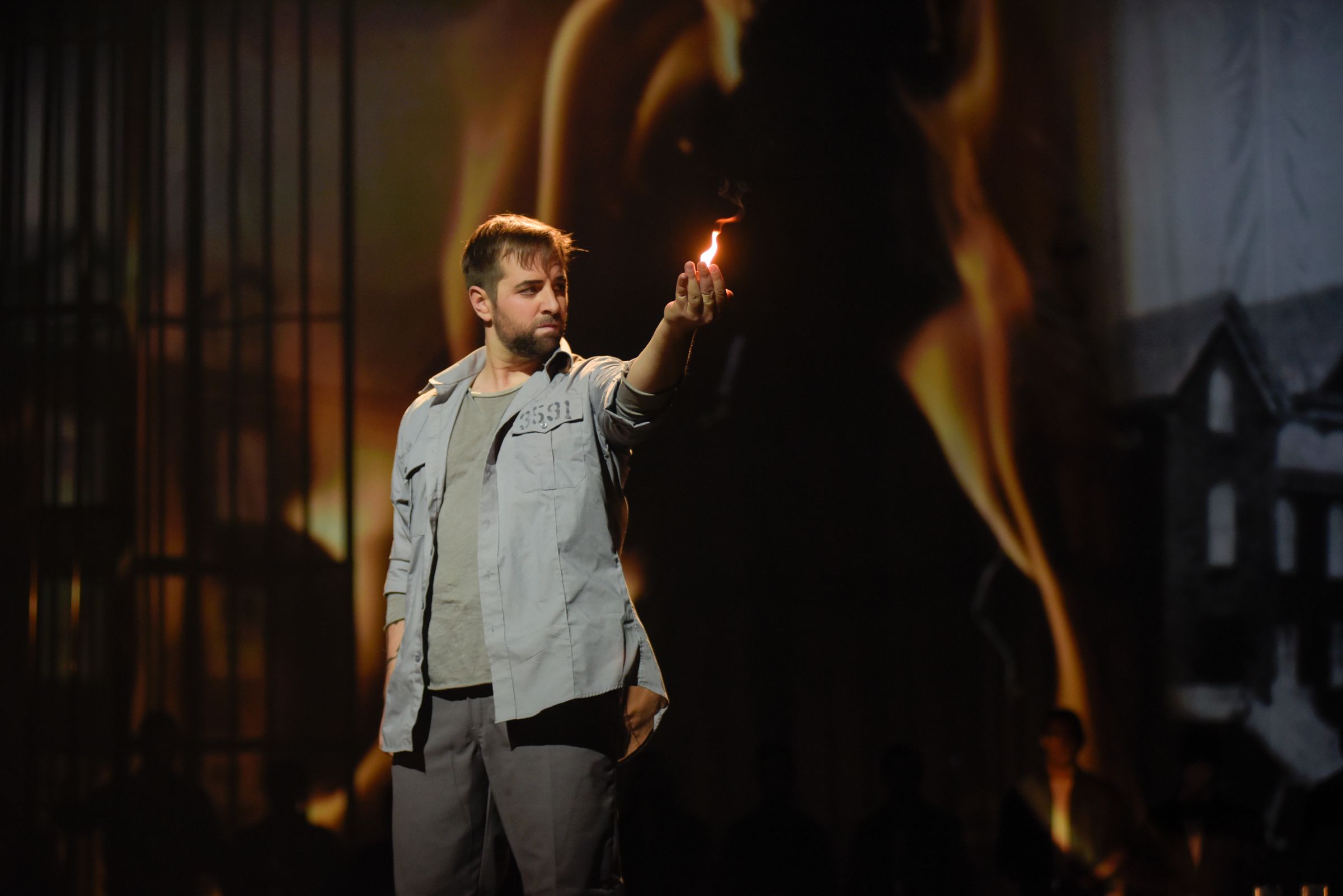 Etienne Dupuis (Simon Doucet) Photo: Yves Renaud